Last Sunday i went to a remote cabin to pick up some new guests. It was Heather Garry together with her sister Fiona "Boo" and Fionas son Sam who had book half a day fishing. They lived right by the water and had only 20m down to my boat from the door.
There was a small opening in the weedline with a small beach perfect to pick them up. I bet there was some pikes standing there as well :). We went on a 10 minute boat ride to the first fishing stop. Sam started fishing straight away and I took some time to get Heather and Boo ready. Before even any of them had time to get their lures wet Sam landed his first of the day!
Heather almost caught one at once but the pike made a run for it and got loose. Sam continued to deliver fish after fish. He was so excited the clear water and the loads of active fish was a big change from the waters he usually fish in UK, Cumbria.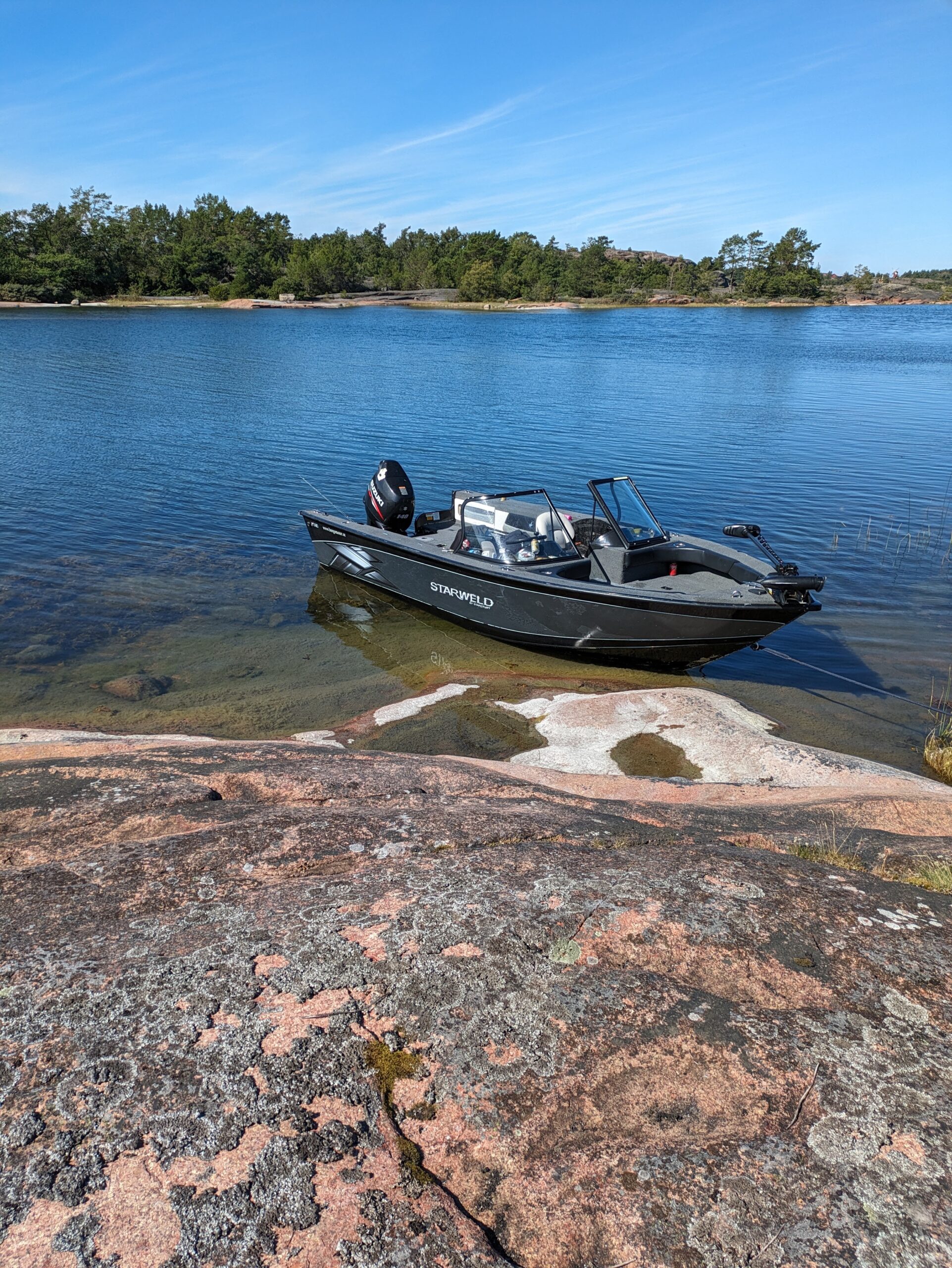 In the fantastic weather we fished our way around the beautiful Islands of norther Åland. Heather caught her first and Boo as well on a shallow reef with deep edges almost out in the open sea of the ocean.
Sam never stopped fishing when we (the rest) took some fika with coffee and buns. And he kept on deliver strikes and followers to the last minutes of fishing. All in all he caught 10 pikes, auntie Heather two and mum Boo one. Thank you for a fantastic day!
This Saturday Nate called and asked if I had time to guide him to some pike. He was traveling around Europe and the Nordic countries working toghether with all the military units working with submarine rescues. He hade been station in Europe for a long period of time and really enjoyed the chance to explore the nature in Scandinavia.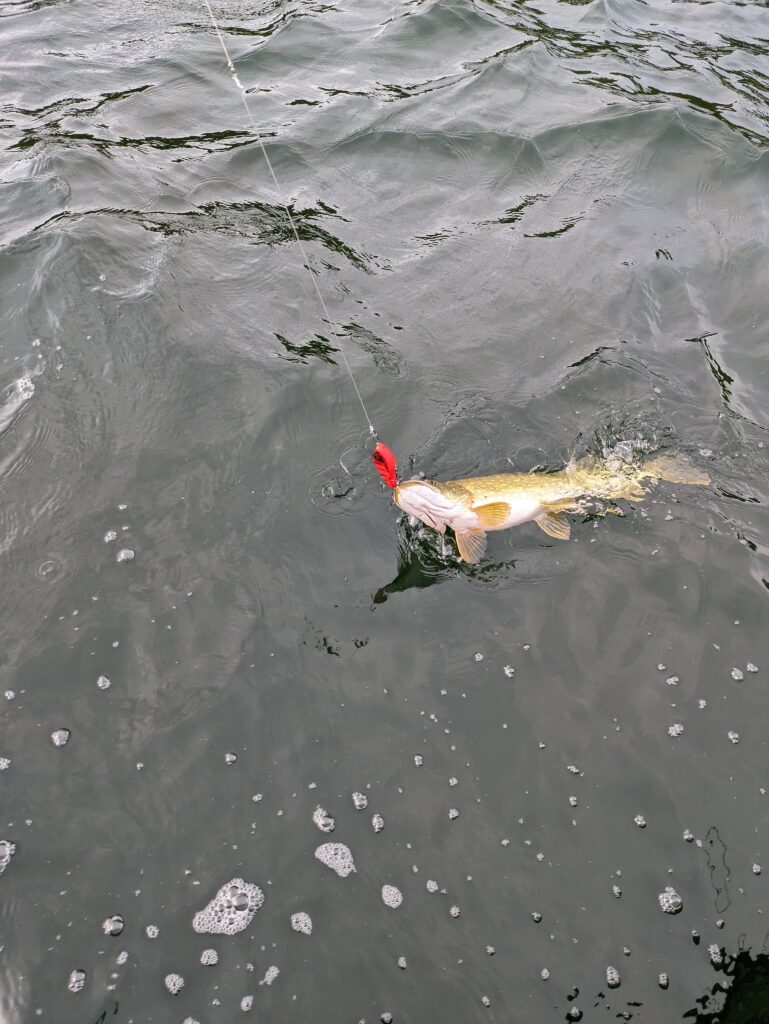 We decided on the next day so he had time to travel from Stockholm to Åland Islands. We met up at 14.00 at my boathouse and went out to sea in search for pike. Nate was used to fish with static baits like worms or dead baitfish but it didn't take long for him to learn the more active kind of fishing with artificial lures. In 15 minutes he already had his first strike and it was on for a brief time and got away. One could say that that was the theme of the day.
We fished and had strikes and followers every now and then but they just nibbled the lures and got off as son as we try to set the hooks. I hooked a couple of pikes and landed a few but most of them did just as Nate's and swam away 🙂
With just a few minutes left of the time he finally got one that took the bait properly. A quick but frenzy fight behind the boat and we could net a beautiful pike!
Nate was a guest I could of fished together with for days on end and still have loads to discuss. It was fascinating hearing about his life in the service, his travels and lovely family!
Thanks to the Garry family and to Nate for making two of my days better! Both are planning to revisit maybe as early as October! I wish you all safe travels until I see you next time!
I've taken a almost two week break in my fishing schedule. The rest of the autumn is almost fully booked so I took some time off to go hunting with my son Jacob and my father Elof. Every year we go at least one time up to the northern parts of Sweden for some Elk hunting. This year was not an exception 🙂 .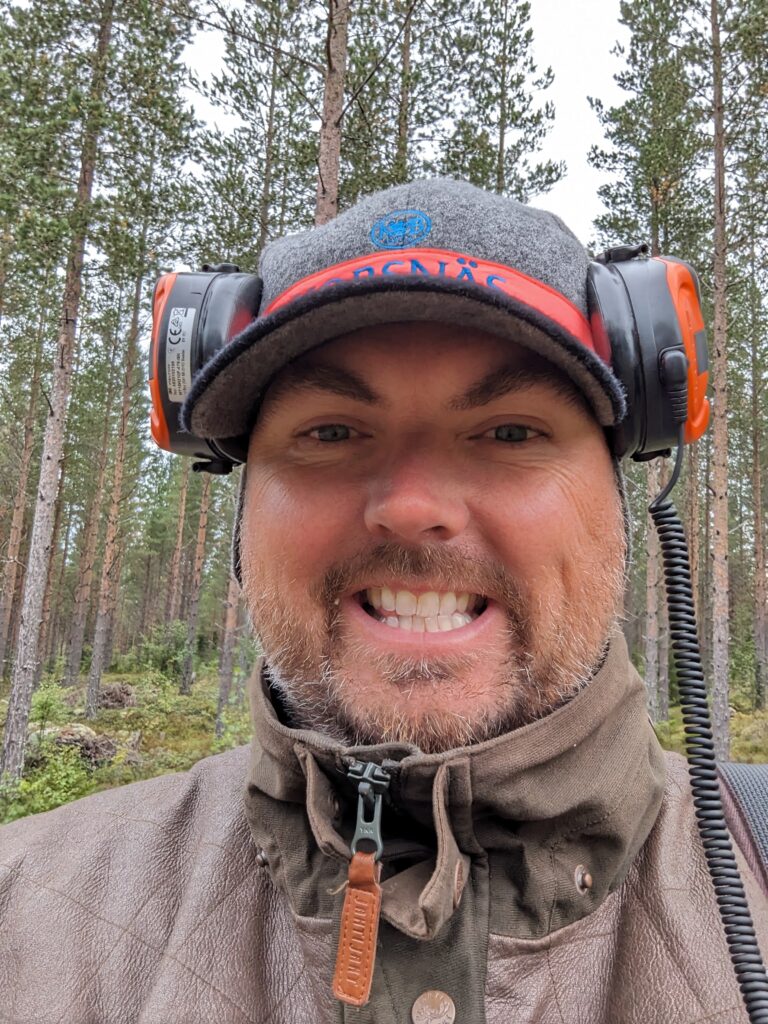 Due to to increase of bear and wolf habitats in the area the elk population has decreased a lot in the recent years. Just the week before we went one of our hunting crew, Axel shot two brown bears in our hunting grounds. But we could still se nine more still hanging around…
In spite of the low elk poulation we still had action with one elk calf and a roe deer buck downed before we drove home. This weekend I spent with my family and close friends celebrating our friendship in good times and in bad!